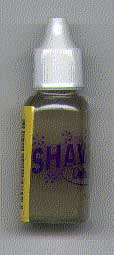 Alright guys. You know how you hate razor burn, bumps, and stubble that comes from a not-so-satisfying shave. No matter the type of blade or gel or foam, we just can't get that smooth feel. And, we haven't quite crossed that bridge to waxing. So, what is a guy to do?
Enter
Shave Deluxe
. a new product that claims to "dramatically reduces razor drag allowing the razor to glide over your skin. At the same time it moisturizes and conditions the skin."
I became aware of this product through Bicycling Magazine and a review of the product in the Lab Rat section. There, it received 4 1/2 rats (out of 5 rats) and glowing reviews from the testers. So I decided to give it a try.
When I received it, I thought I had been had. No way this little bottle was going to work. Plus, the instructions say to use only about 5 drops of the product per "area". I defined an "area" from my foot to my knee, and another area from my knee to none-of-your-business. So ten drops per leg. Rub it in your hands, on your leg, and let the magic begin.
It was strange at first to use because there is no lather to guide your shave. Kind of like losing your place when reading. But, I persisted. The results? I have to say fantastic. It delivers everything that it offers. No burn, bumps, stubble, and a nice close shave. The only downside is that it can gunk up the razor a bit (being made of oils), so you need to clean the blade often. Other than that, it works really well. If you don't believe me, check out my legs at the next race.
The other positives are that it is a "100% natural blend of essential and base oils with a hint of menthol. Nothing artificial." Plus, no animal testing.
So, get some and try it out. I'm working on getting samples for all registrants at the MRC Wrentham Cross Race.
RATING (out of 5
)